Shop - CABLESAFE CABLE PROTECTORS
CABLESAFE - FLEXIBLE CABLE PROTECTORS
For everyday office use - covers numerous internal cables.
"CableSafe" is easy to install and can fitted in moments thanks to the unique underside retention lip.
Cable fitting is easy and quick, simply push the cables into the gap in the underside and lay the complete system in position. No shape knife required.
Each profile will house a combination of power, domestic and telecommunications cables.
"CableSafe" is UV stabilised so it can be safely used either indoors or outdoors.
The following 3 profiles are available to order in colour Black in 9 metre lengths :-
CableSafe RO6 - (approx dimensions 10mm x 25mm and 10mm x 15mm)
CableSafe RO7 - (approx dimensions 8mm x 14mm)
CableSafe RO7-B (approx dimensions 10mm x 30mm)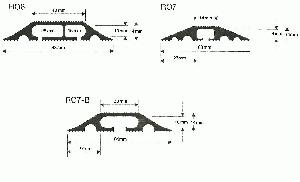 CableSafe Cable Protectors, Office Cable Protectors, Floor Cable Protectors, Internal Cable Protection, interior cable lays, office wire protectors, Rubber Cable Protectors, Rubber Cable Protection