Thames Valley Supplies Limited
---
Thames Valley Supplies Limited
are established providers of high quality rubber and foam based products to industry. Our product range includes gaskets, matting, rubber extrusions & mouldings, flexible hoses, fittings, foams & plastics. We are also foam and rubber converters and can cut material to any size or shape.
We stock a wide range of products and can cut, mould and extrude products to your specification, please feel free to call, most materials are available for same day dispatch.
---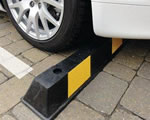 Wall Protection & Speed Reduction Rubber Profiles
: We have included into our range a new set of moulded rubber profiles including bollard / wall protection and corner guards, speed humps (including a PU portable speed hump) and wheel stops used for impact protection / speed reduction. These extrusions are suitable for both internal and external areas where medium or heavy-duty protection is required for walls and columns in pedestrian and traffic areas. These profiles can be bolted or bonded in place. Available in lengths up to 3 metres, these robust and durable profiles can be used in a wide variety of environments such as storage areas, car parks, loading bays, garages and workshops.
more info
---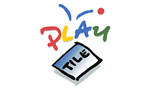 Playtile & Safagrass
: We are stockist's of the Playtiles range of rubber matting products used for children's playground areas. The playtiles come in black or a range of colours and are all guaranteed to meet current legislative requirements for critical fall heights. We are also stockist's of Safagrass's environmentally friendly non-slip impact absorbing ground surface which is specially designed to allow the natural grass from beneath the matting to grow through.
more info
---
Rubber Matting
: We supply a wide range of rubber mats in standard sizes as well as off the roll cuts to customer specification. Included in our range are anti-fatigue mats for industrial work environments, washable entrance mats, stable matting, and 9.5mm electrical switchboard matting tested to 15,000 volts. If your looking for matting then your in the right place. We will also cut rubber matting to size. For further information,
click here
, or contact our friendly sales team.
---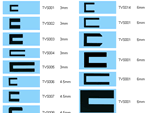 Rubber Channel
: Other items in our range include square channel, flexible self grip sections, cable protectors and fenders. We can fulfill orders as small as 1m up to orders for 500 or 1000 sections, cut to your required length. We also supply glazing seals, container door seals, sponge or solid neoprene cord, U channel, bead and sponge sections as well as a range of miscellaneous sections. You can find a range of our more commonly requested sections here, however if you do not see what you are looking for then feel free to call us.
---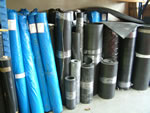 Sound Proofing For Building Regulations Part E
: With the recent amendments to the building regulations Part E concerning sound insulation in residential dwellings, hotels and care homes, there is an increased demand for rubber for use beneath floor boards & flooring joists, between internal walls and behind skirting boards. We supply cost effective made to measure rubber sheeting for sound insulation in buildings to comply with the new regulations. For more information please call us.
---
Corporate Wear
: In the last two years we have successfully incorporated corporate wear into our range, and are able to embroider and heat seal company logo's. The latest product to our comprehensive range are Hi-Vis waistcoats in saturn yellow which fold away into a black 'bum-bag' belt and conforms to EN 1150:1999 standards; for both children and adults.
---
Vulcanised Rubber Extrusion Joints: Thames Valley Supplies have now sourced a system for Vulcanised Rubber Extrusion Joints to make angles etc and extended lengths. These can be supplied in most of the standard polymers. Full quotations can be supplied on request.
---
New Bright Plastazote Colours: New for October 2012, bright new colours: hot pink, spring green, lilac, navy and light grey along with the regular colours of Blue, Green, Orange, Red, Yellow and the standard Black and White
---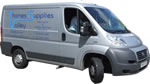 Delivery
: With our own transport, together with a 24hr carrier service back up, we are able to offer a quick and prompt service.
---
Free Quotations
: Quotes are available without obligation, and our sales team will be happy to provide you with costs and specifications either by e-mail or fax, however small or large the enquiry.
Contact us now!!!