Established in 1970 Thames Valley Supplies have been established themselves as the premier rubber converters and stockists for the south of England.
Working from premises in Wolverhampton, Thames Valley Supplies (TVLS) stock a large volume of material ready for supply or conversion.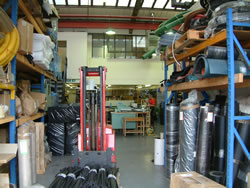 We supply customers from all over the UK as well as overseas.

Standard materials can be purchased online or for any other materials over the phone or direct in person. Materials not in stock can be ordered from a vast range of sources to suit almost any requirement.

If you are not sure exactly what you need then please call and we will do our best to fulfill your requirements.
Customers
We serve for all types of customers from large multinationals and blue chip companies through to hobbyists and homes businesses. No enquiry is too large or small.

Amongst our customer base we have supplied large quantities of rubber stock for use in developments at Heathrow Airport including terminals 4 and 5. We have also supplied material for hobbyists involved in home crafts such as model railways, roleplay costumes and clothing.

Whatever your interest, we are happy to help.