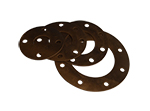 We offer a full range of gaskets including standard and custom sizes in a range of materials including rubber, foam, cork and paper.
The standard full face rings to the left are a very small part of our full gasket range which is both too large to include and mostly made up of custom and bespoke requirements.
If you have a requirement for medium to high volume gaskets please feel free to call to find out how we can help.