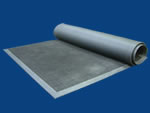 Overview
: We supply a wide range of rubber mats in standard sizes as well as off the roll cuts to customer specification. Included in our range are anti-fatigue mats for industrial work environments, washable entrance mats, non-burning PVC mats, stable matting and 9.5mm electrical switchboard matting tested to 15,000 volts. If your looking for matting then your in the right place. For further information, please do not hesitate to contact our friendly sales team. You can find our online enquiry form
here
.
---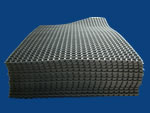 Anti-Fatigue Mats
: Anti-Fatigue mats for machine and factory operatives. Anti-fatigue mats are suited for use where operatives such as machine hands, production line personnel and bench workers spend long periods of time standing. Anti-fatigue mats are designed to ease and redistribute pressure through the feet, legs and back, and reduce effects of impact shock and heavy lifting. We offer a range of mats which offer qualities such as hard wearing abrasive & corrosive resistant surfaces, air cushioning, coloured borders, edge ramps for easy access, surface drainage and anti-static properties. Mats are available in standard sizes, off the roll & cut to length as well as modular sections with edge accessories.
If you are looking for small or high volume ant-fatigue mats, then call now. We carry a large number already in stock and can order all other items through our suppliers quickly.
---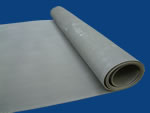 Anti Vibration Mats
: We can provide Anti Vibration Mats for your Washing Machines, Tumble Driers, Fridges, Freezers, Fridge/Freezers whether Table top or Free standing. The Mats are available in as assortment of sizes as well as 2 different thicknesses, either smooth or ribbed effect. We can also cut to specific sizes, materials are stocked here as standard.
---

Stable Matting
: Matting for equine and agricultural applications. Stable matting, suited also for the horse boxes and and wash boxes provides both protection from hard concrete and stone surfaces as well as insulation. Rubber stable matting also means you need less bedding and makes mucking out alot easier. The stable mattings non-slip, soft surface, means your horse will also be more comfortable on the ground and find it easier standing up.
---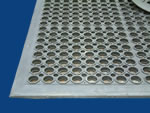 Drainage Matting
: Matting for wet environments, industrial, commercial and outdoor.
Industrial catering environments subject to water, fluids, oil and grease contamination. Mats are chemical resistance with anti-fatigue features and allow liquid spills to pass through the mat leaving the surface non-slip underfoot.
Marine environments including fish docks, boats, dock sides, and fishmongers. Salt water resistant and slip proof rubber matting.
Electroplating facilities, metal finishing and surface coating operations. Chemical and slip resistant rubber matting.
---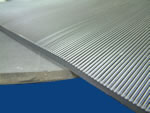 Electrical Switchboard Insulation Matting
: 9.5mm electrical switchboard insulation matting tested to 15,000 volts. High capacity rubber insulating matting is required by the Factories Act to protect employees involved in the generation, transformation, distribution or use of electricity, from shock and is the recommended safety flooring at switchboards, power generators, sub-stations, transformers, and high voltage machinery.
Electrical Switchboard Insulation Matting is available off the roll and cut to size,
for more information click here
.
---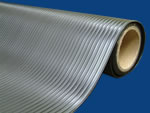 Ribbed Matting
: Ribbed matting off the roll, cut to requirements. Ribbed matting is available in rolls upto 10m long and 1.2m wide. The ribs are available in the following sizes:
3mm - Fine - Schools, Offices, Shops, Industry
5mm - Fine - Schools, Offices, Shops, Industry
6mm - Fine - Heavy Duty Applications
3mm Flat - Automotive, Commercial, Industrial - Ideal for classic cars
---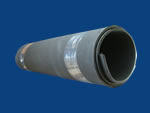 Sports Matting
: Indoor & outdoor sports matting. Heavy duty chipfoam rubber coated matting, flame retardant, anti-slip base and welded seams. A range of thicknesses available for use in sports halls, schools, self defence classes and leisure centers for general rolling, tumbling, landing, football, and physical education.
---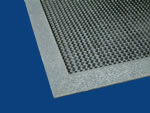 Commercial Matting
: Matting for office environments. Designed for slippery locations, on linoleum, marble, polished concrete, or areas prone for falls such as the base and top of an escalator or moving floor, outside lavatories or in fast food areas. Also Ideal for a range of airport locations. Commercial matting is available in a range of materials including rubber, PVC and nylon fabric.
---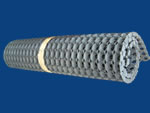 Outdoor Matting
: Tough and durable matting with gaps for water and mud to pass. Applications include outdoor adventure parks, garden parties, fetes, fairs, marquees, walkways, sports pitches and special applications such as amusement rides, trains and buses where water, mud, snow and waste might all be a problem. Outdoor matting is weatherproof, resilient, tough and provides both a none slip surface under any condition as well as a soft impact reducing surface for falls.
Sheet Size:
1.5Mtrs long x 1Mtr wide x 23mm thickness
---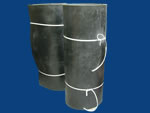 Industrial Matting
: Heavy matting upto 20mm thick designed to withstand acids, chemicals, heavy loads. We specialise in made to measure matting for industrial walkways, machine & workstation surfaces, abrasive blasting environments and high temperature work places.